What are they?
Many people are unaware that there's more options than aluminum gutters. A higher-end metal can provide many benefits.
Valuable Asset

Copper gutters are one of the few installations on your home that retain their fiscal value. Copper is a precious investment of metal that protects your home.
It's chemical reaction to water and air make it resist corrosion by growing a layer of protective patina. Properly installed copper gutters can last a lifetime- around 150 years.

Protection System

Our rain water system has seamless downspouts, which prevent moisture from accumulating. Seams allow water to pass even in small amounts, and the freezing of this moisture in could actually pry open holes in the system.
A forward facing bead allow excessive rainfall to be directed away from the home, preventing the damage that other gutters fail to avoid.

Versatile, classy decor

No one has copper gutters installed on their house and thinks, "Was this the right aesthetic choice?" The new gleam of the copper slowly fades to a dark brown, eventually tinting to its greenish patina. 
A thicker and sturdier metal, copper will retain its shape if installed properly and will be one of the last maintenance system that will fail a home. There are buildings built in the 1800s that still have their original copper rainwater systems.
What types and sizes are available?
Each home and its respective builder have individual, unique needs. We provide several options in order to cater to this.
Types

We actually have more than copper as an option. There are 2 types of Zinc available: natural, and quartz.

Sizes

All types are sold in sections. Gutters come in 20′ and downspouts come in 10′
Gutters come in 5″, 6″, and 7.6″ sizes to be used respectively with 3.1″, 4″, and 4.7″ with some overlap of compatibility.
What makes the gutters unique?
While made in America, our gutters are modeled after the European style. Imagine the common gutter you see on houses, a boxy shape. This is called K-style. European differs in that it has no hard edges but is shaped in circular fashion.
Forward bead

The lip of the gutter is softly curled under itself, allowing a forward motion to any spill-over

Seamless-weld

Many gutter systems are caulked or crimped to close their downspouts. This can cause problems if there is clogging in the pipe, especially in the winter.
In our downspouts, a subtle weld makes the tube a single welded tube rather than a sheet wrapped upon itself.
Installing Copper Rainwater Systems
Why Choose Copper Gutters?
Gutter Endurance
A well built home can last for several generations. Why install a system that would not stand the test of time. Aluminum gutters maybe last 20 years with constant maintenance. Copper and zinc gutters can survive 60+ years with minimum maintenance and well past 100 years if installed and inspected properly. Rather than corroding, copper builds a patina on its surface which protects it from the watery destruction that befalls other metals.
System Appearance
Many gutter systems are painted because the metal has little value and does not have aesthetic value. Rare metals such as zinc and copper have a natural and surviving beauty, classy and charming. Like a fine wine, the copper gets better with age. As the years pass, the copper changes its color. 
Sustainable Materials
These gutters need only a small amount of maintenance, especially the downspouts are seamless like ours. European-style gutters are shaped like a bowl to encourage the water away from the house by simple physics. 
Instead of faulty and deteriorating caulking, the copper in the systems is soldered. The metal, along with zinc, is recyclable, though you won't be recycling it in your lifetime.
Examples of Copper Rain Gutter Installations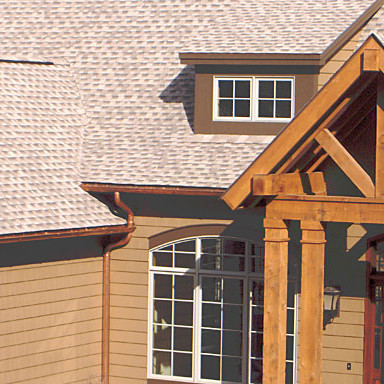 This is a gutter installation on a residential home by one of our partners, Padgett Guttering.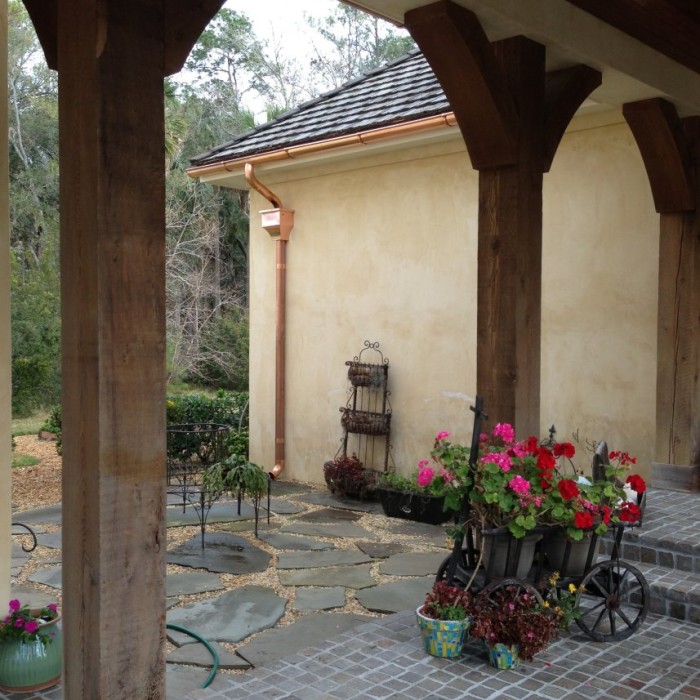 This is a EuroGutterUSA installation by CopperWorx, Inc., headquartered in Lakeland, FL.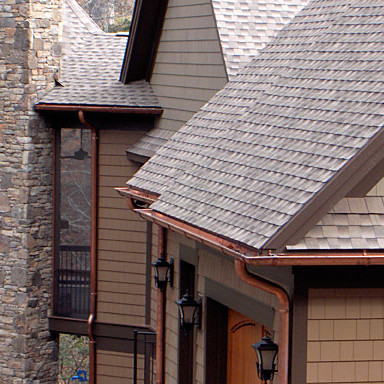 These were installed by one of our partners, Padgett Guttering.
Aluminum Gutter Cost
The average Aluminum gutter system will be replaced around 7 times in 150 years, once every other decade
The total 150-year cost of such a system on a 2,400 sq foot home equals $6,026.72
Copper Gutter Cost
When installed professionally, you will never live long enough to see it replaced
15 decades of a single copper system of a 2,400 sq foot home comes out to $2,928.86
*All prices subject to change
Contact us to learn more about our copper gutters
140 County Rd 1311 Cullman, AL 35058