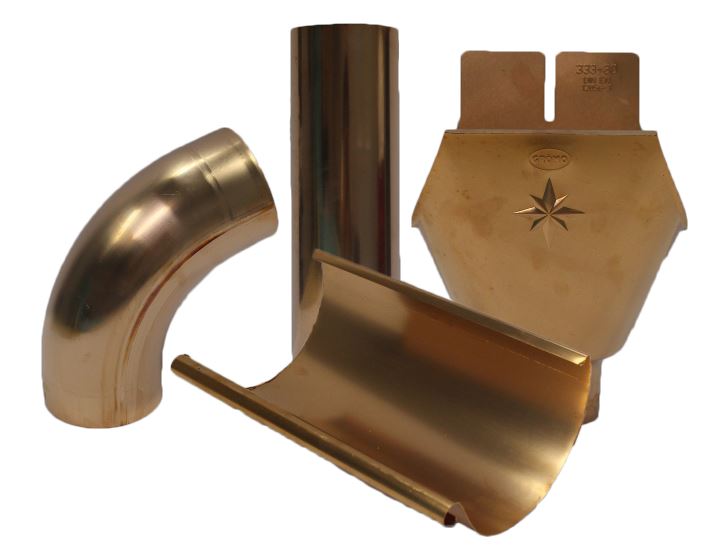 Ornametals is the only U.S. manufacturer of EuroGutterUSA™, a complete half-round and seamless weld downspout system in copper and VMZinc. Our gutters feature the traditional forward-bead, which together with proper installation provides better protection for the fascia. Instead of folded-seams and crimped corners, our downspouts and elbows have a seamless weld, resulting in a more durable and elegant product.
Here's 5 Great Reasons to Choose EuroGutterUSA
1. Made in the USA.
The half-round gutters and seamless downspouts of EuroGutterUSA are made right here in America at our facility in Cullman, AL.  We are the only US company that fabricates seamless copper and zinc downspouts.
2. Seamless Weld
Yes, they won't see it, but they do see broken copper gutters leaking. A seamless weld has a much higher integrity to extreme temperatures and looks more streamlined and aesthetically pleasing. In a study about the gutter and downspout industry that we obtained from The Freedonia Group, seamless downspouts are on a course to grow in demand double that of traditional gutters. Think about it- how impressed will your client be if they see you took just a little extra effort to give them the best gutter system available?
3. Forward Bead
As far as structural integrity and water-flow mechanics, this is the best option.  It allows and outward flow of water, diverting excess water away from the building.  Forward Beaded gutters can also withstand more pressure, such as a ladder leaned against it.  That's where the Euro in the name comes from.  It's been done that way for decades for a reason- it's better!
4. Quality Parts
EuroGutterUSA is not just quality gutters and downspouts.  Notice that our elbows are smooth and not crimped. This greatly adds to the aesthetics.   As part of our ornaments, you can choose to upgrade the leaderheads to create an even more impressive system.  Our heavy-duty brackets are stronger and more versatile than any competition.  If installed properly, they will hold the system up forever!
5. Customer Service
We made it!  If you have questions about installation of a copper gutter, zinc gutter, or other materials, you don't have to search for experts.  You've got them here at Ornametals.