Selecting a rainwater system is crucial for any house. It can be a difficult decision whether you are a home owner, roofer, or home builder. Copper gutters, or zinc gutters, are a great choice. There are four major factors to consider when deciding what you will purchase.
Manufacturing
There are only two ways to get your gutters. Many construction companies carry gutter machines in the back of trucks and roll out gutters on the spot. Given this is an on-site advantage, this option is, in fact, cheaper. However, these smaller machines almost always roll thinner sheets and are known to be weaker. The better option is to have a heavier-weight machine roll your gutters in a copper gutter facility. While you can save money on-site rolling, is it really a better option than a high-end gutter?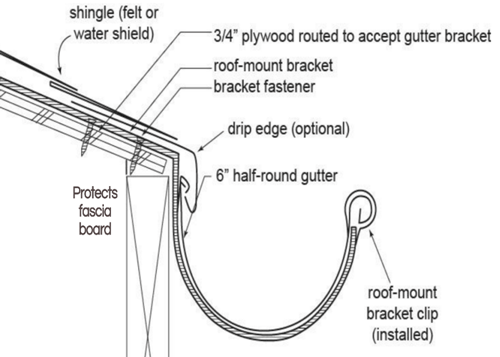 K-Style vs. Half Round
We have an entire blog post about this subject.  In short, it is a choice between the cheaper but higher maintenance k-style; or the higher cost yet low maintenance half round.  Another benefit is the flow of water. EuroGutterUSA™ is specifically designed to withstand Noah's flood kind of rain while still protecting the fascia and walls.  Our gutters are thicker and slightly larger than most competitors to ensure the highest quality of rain protection.
Downspouts and Accessories
Every gutter system requires at least one downspout.  Downspouts come in two forms: seamed or seamless.  Again it's a matter of how gutter longevity. It's either until the kids leave for school or your great-grandchildren leave.  Seams in a downspout are susceptible to expansion via ice and heat.  The crimped nature of their makeup cannot guarantee that water and air will not enter the crevices.  Unlike many companies, Ornametals
produce seamless gutters,  making them a solid piece around.  The point at which the two sides are combined is several times stronger than a normal seam.  While this is slightly more expensive, the longevity and peace of mind are worth a few extra dollars per piece.
Accessories are additional pieces such as decorative brackets and leaderheads. Ornametals has a huge selection of leaderheads and our special Star Outlet. Rain gutters should be appealing to the eyes but also highly functional and reliable. They need to promote healthy water flow as shown above.
Installation
You can probably handle the installation yourself if you are a construction company.  Ornametals offers a Specs and Materials Guide that includes how to install the Star Outlet.- Free download!  Please give us a call if you have any specific questions or need more hands-on consultation for bigger jobs.
If you are a homeowner, we highly suggest that you use contracted work to install high-end gutters.  There are copper gutter systems still in operation from the 180os. They can last an extremely long time, but only if installed by a professional.  If you want to contact us to install your gutters, don't hesitate to get in touch with us.