If you are not a resident of New York City you may find yourself asking the question: Who is Lucy G. Moses and why is her award important? No need to worry my friends, I've got you covered…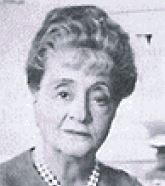 Lucy Goldschmidt Moses, born in 1887, was a New York City native and  philanthropist who dedicated the majority of her life to helping people less fortunate. She and her husband, Henry L. Moses, donated tens of millions of  dollars to philanthropy. Buildings such as Carnegie Hall, Lincoln Center and the Navajo Community College in Arizona were proud recipients along with an endless list of different medical facilities. They established the Lucy G. Moses Cardiothoracic Center and also helped fund health programs in places like Israel and South Korea. After her husband's passing in 1961, Lucy became the president of The Henry and Lucy Moses Fund which helped support the arts, music and education. She was also the first recipient of the Frederick Law Olmsted Award in 1983 for helping restore the Bow Bridge over Central Park Lake.
Despite all of these accomplishments Lucy G. Moses always strove for more knowledge and at the age of 85, she left New York to study archaeology at Oxford University.
Although Lucy passed in 1991, through The Henry and Lucy Moses Fund her legacy lives on. For over 50 years now, The Lucy G. Moses Award recognizes organizations, individuals, architects, building owners and craftspeople for their phenomenal contributions to preserving the city of New York. And that is why we here at Ornametals Manufacturing, LLC are grateful for our participation in the restoring of this wonderful building in New York City, The Hadrian.
The Hadrian
The Hadrian Project is what I like to refer to as the underdog of restorations. Built in 1903, this ten story apartment complex has neither the status that comes with being a New York City landmark nor the location to be classified as "historic". But its owner, The Hadrian, LLC, spearheaded by G. H. Beane was determined to give this "little building that could" a well needed upgrade.
The late Christopher Gray who was a renowned architectural historian and New York Times journalist (and just so happened to live across the street) is credited for getting the restoration of this project underway. His knowledge of historic information, photographs of the original building and 30 years of persistent encouragement finally convinced the owners that a restoration was needed and not just any restoration… The restoration.
The Hadrian is located at 225 W. 80th Street on the Upper West Side of Manhattan and is nestled between the illustrious Riverside Park and its slightly more famous counterpart Central Park. With its pre-war charm, The Hadrian wears the scars of its turn-of-the-century construction by its cast iron cage and "white city" exterior. The written plans for this restoration project began in 2014 and finally broke ground in 2016. The team consisted of: Architect Cory Rouillard (Jan Hird Pokorny Associates), Preservation Consultant Helen Thomas-Haney (Jablonski Building Conservation), Project Engineer Donald Friedman (Old Structures Engineering), General Contractor Carl Culbreth (Preserv Inc) and Ornament Manufacturers Guenther Huber (Ornametals Manufacturing, LLC.) and Sammy Baron (VMZinc).
It took nearly two years but in summer of 2017 the restoration was complete. The entire restoration was broken down into two phases. Phase one consisted of: 100% repointing of the façade, stripping the unoriginal milky texture off of the exterior, repairing the brick, terra cotta, limestone, steel spandrels and replacing non original stucco balcony brackets. The second phase would include a voluminous restoration of the north, south, east and west cornice along with copper ornament replacement.
Ornametals Manufacturing was brought in along with our partners at VMZinc during phase two and were chosen for the cornice production due to our reputation for restoring precious metals and our ability to replicate almost anything.
This century old building couldn't help but show its age. The original cornice was made out of galvanized sheet steel and stamped zinc ornaments. It had perforated edges, failing armatures and lack of material integrity. The original cornice had also been painted green to mimic the verdigris of copper. There were very few original ornaments left to use for replication but what was there was utilized along with historic photos and the ghosts of previous ornaments and brackets that were no longer present.
Every possible precaution was taken to ensure that the replication of the original cornice was accurate. Every photograph, original ornament and its ghost was laboriously studied and replicated. The new copper ornaments consisted of 33 lion heads, 34 swags with leaves, 34 fleur-de-lis, 17 shields, 16 anthemion and much more. The new armature was made of stainless steel and was designed by Perserv according to blueprint and drawing specifications. The original cornice stood over nine feet fall; due to this massive size, the now copper panels needed to be built in seven segments to ensure not only proper waterproofing of the structure and its fasteners but to allow the copper to expand during inclement weather.
Due to its location it would have been easy for this small apartment building to be overshadowed by museums, the ballet or beautiful brownstones. There were taller, sleeker and grander buildings at every turn but the owners and Mr. Gray knew that bigger didn't always mean better, that a landmark status doesn't make you superior and that being located in a historic district doesn't equate to more deserving. They committed themselves to a quality restoration and due to the planning, hard work and sweat that went into The Hadrian this underdog is the proud recipient of a Lucy G. Moses Preservation Award… and that is pretty darn awesome!
The award ceremony takes place this summer in NYC.