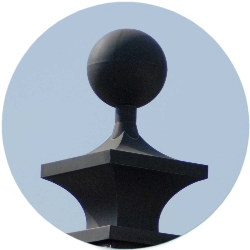 A finial is an element that accents the top or end of an object usually for decorative purposes.  In architecture it is employed to emphasize the top of a spire, tower, dome, roof, or other prominent feature of a structure.  Like a flock of birds, several finials may be called pinnacles.
Origins seem to be unclear as it is a fairly simple device upon which to decorate a structure.  The first may have been a stick on the top of a cave of our prehistoric relatives.  Later in history, the Greeks and Romans are known to adorn structures with finials but the trend seems to come and go throughout world architecture.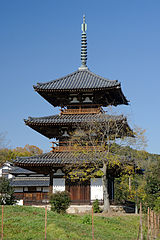 Their first prominent appearance seems to occur around 711 A.D. by Asian cultures at the tops of pagodas, large buildings built around staircases that were heavily ornamented.
Buddhist religion began to influence these pagodas so many finials began to take the shape of a long lotus bud, having religious implications of enlightenment and rebirth.  Many of these were stone.
The Japanese began to use metal such as iron and, our favorite, copper.  Still symbolic, they created images like a wheel or nine rings or spheres.
Renaissance and Gothic structures saw an explosion of finials, creating several different craft specializations.
Victorian finials included designs such as spike, ball or fleur de lys.  They tended to have a decorative ridge tile base and then stone or metallic finial above.  Gothic finials typically  included ornamental figures such as gargoyles, dragons, and other mythical creatures.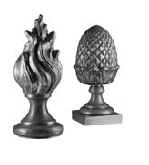 It was from this boom of metallic ornaments that Guenther's family began a trade that has surpassed 200 years of tradition. Today, Ornametals and its partners produce beautiful finials that will last for hundreds of years to come.
View our Catalog of Finials
Want to learn about the History of Weathervanes? Click here to read more.